Famous people of Iwate
Japanese names on this page are written with the surname first.
Ishikawa Takuboku (1886-1912)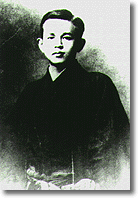 Ishikawa was born in Hinoto Town, Minami Iwate County (present-day Morioka City) as Ishikawa Hajime. He dreamed of becoming a writer since entering Morioka Middle School (now Morioka #1 High School), and moved to Tokyo in 1902. Under the tutelage of famous author Yosano Tekkan, he published his poem anthology "Akogare (Yearning)". In the following year, he became a substitute teacher at his former school, Shibutami Elementary, but after a disagreement with the school, he was dismissed.
Following that, he traveled around Hokkaido and Tokyo, devoted himself to writing, and published "Ichiaku no Suna (A Handful of Sand)" to great acclaim. However, Ishikawa never returned to Shibutami, as he was plagued by poverty and sickness, and his short, meaningful life ended at the age of 26.
Miyazawa Kenji (1896-1933)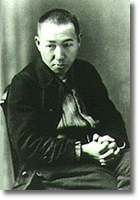 Miyazawa was born in Satokawaguchi Village, Hienuki County (present-day Hanamaki City). He attended Morioka Middle School and went on to Morioka Agriculture and Forestry College (now Iwate University), and became a teacher after graduation. He created the Rasu Chijin Association (a private school) and dedicated his time to educating farmers in the area. He was truly a renaissance man, well-versed in literature, agriculture, education, religion, geology, and more. In later years he was stricken by illness, and died at 37.
His most famous works are the poem anthology "Haru to Shura (Spring and the Ashura)", and the children's tales "Chumon no Oi Ryoriten (The Restaurant of Many Orders)," "Ginga Tetsudo no Yoru (Night on the Galactic Railroad)", and "Kaze no Matasaburo (Matasaburo the Wind Imp)."
Hara Takashi (1856-1921)
Hara was born in Morioka City, and was the first Prime Minister of Japan who created a base for party politics. He also served as Minister of Foreign Affairs and Ambassador to Korea, and created the Rikken Seiyukai (Friends of Constitutional Government) party along with Ito Hirobumi, another famous politician. He became secretary-general of the party in 1914, and in 1918 Hara became the first Prime Minister of Japan who was not a member of the nobility, earning him the nickname "the commoner prime minister."
Nitobe Inazo (1862-1933)
Nitobe was born in Morioka City, and was a thinker and doctor of both agriculture and law. Along with a tenure as Under-Secretary General of the League of Nations, he was an international figure who deepened understanding of Japanese culture abroad. In 1933 he travelled to Canada to appear as a representative of Japan in a conference on Pacific relations. He is famous for the quote, "I wish to become a bridge across the Pacific."
Related links
このページに関する

お問い合わせ

Office of International Affairs, Department of Homeland Promotion
(020-8570) 10-1 Uchimaru, Morioka City, Iwate Prefecture, JAPAN
Phone number:019-629-5765 Facsimile:019-629-5254
You can access our question form here.