The symbols of Iwate
The prefectural emblem and flag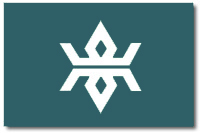 Iwate's prefectural flag places the emblem in white against a greenish-grey background. It was designed on March 6, 1965.
The prefectural bird - Kiji (Japanese pheasant)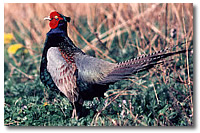 These birds live throughout all of Iwate. Males have shiny, dark green feathers and a long tail, while females are a less flashy tan color. With dark spots dotting their feathers, the Japanese pheasant is an elegant, humble, and friendly bird whose character is said to resemble the people of the region.

Iwate boasts the highest population of pheasants in the entire country, and the national Forestry Agency established laws to protect them and other wildlife on May 10, 1964.
The prefectural tree - Nanbu Akamatsu (Nanbu red pine)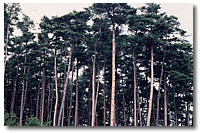 The Nanbu red pine can be found all over the prefecture and is Iwate's most famous native tree. Many grow in the hilly, mountainous regions with Paleozoic strata, and are a quickly growing species. The red pine has a high oil content that gives it a nice gloss factor as you polish the wood. We're proud to say that the red pine is the most popular wood used in high-quality Japanese wooden products.
The red pine was proposed as Iwate's prefectural tree by the Mainichi Newspaper in commemoration of the Japan Expo, and was formally decided on September 26, 1966.
The prefectural flower - Kiri (paulownia)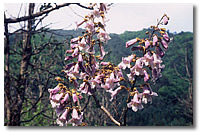 Iwate's paulownia is a gorgeous flower, with a glossy sheen and a delicate light purple color. It is known as the Nanbu purple paulownia.
In May, the sweet aroma of the flower is carried throughout Iwate by the gentle spring breeze, and it forms a natural decoration for the hills and valleys of the region. They say that the flower was brought to the area in the Ashikaga period (1337-1573) by the Tono-Nanbu clan from the southern imperial region.
The paulownia was established as Iwate's flower as part of NHK's 30th commemoration event on March 22, 1955.
The prefectural fish - Nanbu sake (Nanbu salmon)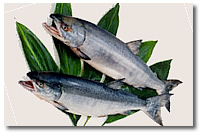 The Nanbu salmon sports a spindle-shaped body with length of 90 cm, and can be found swimming up the river in autumn every year to lay its eggs in the fertile sandy bottom upstream. Iwate catches the largest amount of Nanbu sake in all of Honshu (the largest island of the Japan archipelago), and has long been a favorite of the Iwate people.

The Nanbu salmon was designated Iwate's fish on February 21, 1992 to commemorate the Japan Expo in Iwate (the Sanriku Sea Expo).
Using these symbols
You must contact the prefectural government to use these symbols of Iwate. You can reach us at kouhou@pref.iwate.jp.
このページに関する

お問い合わせ

Office of International Affairs, Department of Homeland Promotion
(020-8570) 10-1 Uchimaru, Morioka City, Iwate Prefecture, JAPAN
Phone number:019-629-5765 Facsimile:019-629-5254
You can access our question form here.