Disaster Preparedness Booklet
There is a lot of information online about disaster preparedness but none of that does any good if the power goes out! That's why we've created a Disaster Preparedness Booklet.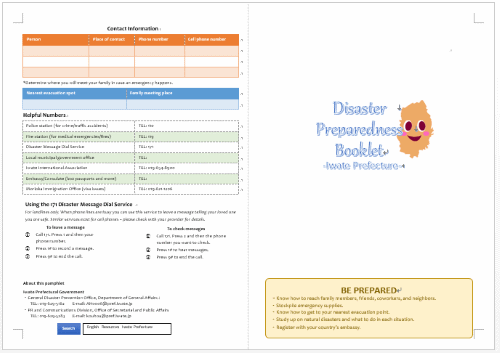 We have distilled many of our important points into a booklet that can be printed out to fit in a drawer or bag. Please click the download link at the bottom of this page.
Information inside
Contact information and places to write down important contact numbers
Information on the various natural disasters that can occur in Iwate
Stockpile and supply kit checklist
How to evacuate, and advice for living in an evacuation shelter
Useful phrases
Weather advisories and warnings in English and Japanese
Instructions on how to call emergency services (119 and 110)
Printing
If your printer can print double-sided, you can print this PDF in a booklet form. Use A4 size paper and select the short edge option to print correctly.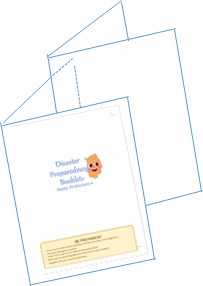 添付ファイル
Download the Disaster Preparedness Booklet
このページに関する

お問い合わせ

Office of International Affairs, Department of Homeland Promotion
(020-8570) 10-1 Uchimaru, Morioka City, Iwate Prefecture, JAPAN
Phone number:019-629-5765 Facsimile:019-629-5254
You can access our question form here.